After seeing how much Kosmo enjoyed the feather teaser, I tried to interest Munchkin in it too. She sort of liked it, but not really.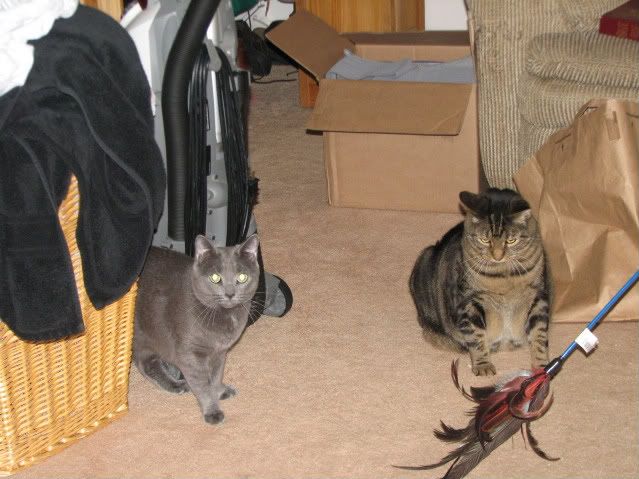 She liked this teaser much better. Kosmo enjoys both of them so now both of them could play.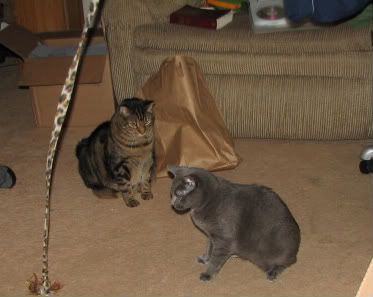 Maybe they're wondering: is that thing dead or alive? Will it move again?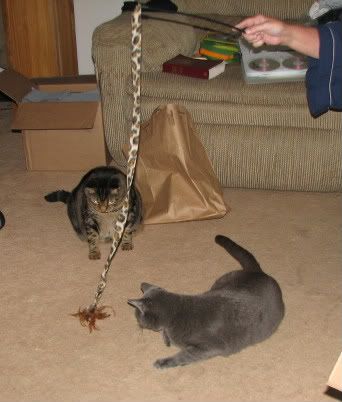 Munchkin sez, you snooze you lose! I'm taking off with it NOW! She pulled so hard the stick flew out of my hands and Munchie ran right under the bed with it. End of game for the time being! :D
A P.S. to my cat blogging furriends and other cat lovers and bloggers: I'm sorry I haven't been around to visit lately. I've been laid up and still not able to stay on the computer very long. BUT I think about all you guys and I do plan to come back around and visit!
Want more cat blogging?
Be sure to check out
Gattina's blog
. Today is also
Tuxie Tuesday
and then there's
Blogging Cat Noos
for all the latest!