I started my new blog because I didn't want to have this one bogged down in recovery issues. Here are my Friday Memes!
Food 4 Thought
Breakfast

You wouldn't be caught dead, where?
In a strip joint, blech!

Lunch

Was there ever a time you were frightened for your life?
Yes, when I was in high school--December 13, 1972 to be exact--one of our custodians flipped out, went berserk and stabbed two security guards with a machete knife. He grabbed a 10th grader and dragged her into one of the custodian offices--right next to our psychology class. He held the knife to her throat and said he was going to kill her. We could hear them both screaming through the wall. She was begging God to save her and he was laughing maniacally and saying there's no God, you're going to die.
The SWAT team came and we were all lying on the cold floor in case they started to open up. I was afraid for my life when all that started to happen. The worst thing of all was the girl's screaming. After some time (I don't remember how long), he suddenly decided to let her go. When she was clear, he lunged at the police with the knife and they shot and killed him. Eleven shots were fired but they happened so fast, it just sounded like one to me.
That's something I won't forget.
Dinner
What are you passionate about?
My husband. And reading. I must have both.

Midnight Snack
Have you ever won a trophy?
Yes, I've won bowling trophies when I used to be on leagues as a teenager and young adult.
Recipe of the Week (instead of your recipe for life, what is it just for this week?)
My husband made this. It was delicious! This isn't a great recipe because you have to figure out your own measurements. We don't use the same measurements all the time! :P
Crockpot Irish Beef Stew
Crockpot Irish Beef Stew
1/4 cup olive oil
1 1/4 pounds stew beef, cut into 1-inch pieces
6 large garlic cloves, minced or 1 tablespoon pre-diced garlic
6 cups beef stock or canned beef broth or 6 bouillion cubes and 6 cups of water
1 cup of fine red wine
1 small can (6 oz) tomato paste
1 tablespoon sugar or 3 packets Sweet-N-Low
1 tablespoon dried thyme
1 tablespoon Worcestershire sauce
2 bay leaves
3 pounds russet potatoes, peeled, cut into 1/2-inch pieces (about 7 cups)
2 large onions, chopped
1 lb. bag baby carrots
Salt and Pepper
2 tablespoons chopped fresh parsley
1 cup flour
1. Heat olive oil in heavy large pan over medium-high heat. Dredge beef in flour add beef to pan and sauté until brown on all sides, about 5 minutes. Add garlic and sauté 1 minute.
2. In the Crockpot add beef and garlic, beef stock, red wine, tomato paste, sugar, thyme, Worcestershire sauce and bay leaves and vegetables.
3. Set temperature to low and simmer for eight hours.
Salt and pepper to taste. Cool slightly.
Sprinkle with parsley and serve.
Serve with fresh baked rolls or biscuits
Serves 4 to 6.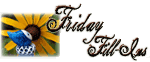 1. The last band I saw live was
the Beach Boys.
2. What I look forward to most on Thanksgiving is
having dinner together with family
. (if you don't celebrate thanksgiving, insert your favorite holiday)
3. My Christmas/holiday shopping is
going to be minimal this year
.
4. Thoughts of
writing something
fill my head.
5. I wish I could wear
overalls
.
6. Bagpipes
are loud but beautiful
.
7. And as for the weekend, tonight I'm looking forward to
watching Criminal Minds
, tomorrow my plans include
seeing my niece perform in Rent
and Sunday, I want to
go to church
!
Four For Friday
Q1 - Intervention: If you could single-handedly have stopped one historically or noteworthy tragedy or event, what would you have stopped from happening?
I would have stopped the terrorism and killing on 9/11/2001
Q2 - Wrong Number, But: If you dialed the wrong number and anyone of your choice answered and spoke with you for 30 interrupted minutes, whom would you choose to answer?
David Selby. Heh.
Q3 - Friend: Who is your oldest friend in the world, and how and when did you meet?
Let's see...oldest in years? Or oldest in how long I've known her? I'll go with age. I think that would be Jean. I met her through our adoption of Cubby and Sox. We met over a year ago. She and her grandson came to visit the two kitties and we all hit it off great!
Q4 - That's a Relief: Name one thing that would make you sleep better at night (either literally or figuratively)?
Christmas music to listen to. Soon. Soon.