It's been another one of those wild and crazy days. Memes, prayers and Christmas crunches will relax me!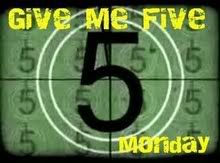 Give Me Five favorite or un-favorite things to shop for.
1. Books (favorite)
2. Groceries (un-favorite)
3. DVDs or CDs (favorite)
4. Clothes (un-favorite)
5. Gifts (favorite)
Monday Movie Meme

This week's movie topic is all about Surprise Endings...
Psycho
is the first movie I can remember seeing with such a twist, surprise ending!
Then there was
Planet of the Apes
. Who saw that one coming?
My mind was totally blown by the twist in
Sixth Sense
! While we're on M. Night Shymalon, how about
The Village
or
Signs
?
Others?
Soylent GreenDeathtrapInvasion of the Body SnatchersCarrieSecret WindowField of Dreams
and one of my all time favorites:
The Sting

10 songs that sum up your weekend...or were on your weekend playlist...and one picture that relates back. (oh, and if you feel like it, tell us why you picked the songs you did)
1. "Pressure" by Billy Joel
2. "Running Against the Wind" by Bob Seger
3. "Rainy Days & Mondays" by the Carpenters
4. "Raindrops Keep Fallin On My Head" by BJ Thomas
5. "Fire & Rain" by James Taylor
6. "Our House" by Crosby, Stills, Nash & Young
7. "Riders on the Storm" by the Doors
8. "Don't Stop" by Fleetwood Mac
9. "I Will Survive" by Gloria Gaynor
10. "Calling All Angels" by Train
I don't have a picture from the weekend that relates back but as for why: it was a wild and crazy weekend and I felt stressed Friday and Saturday. It was very rainy and nasty Friday into Saturday. On Sunday, though, the sun came out and my spirits lifted. I called in all my angels, didn't stop believing and I will survive, LOL!