Grace in Small Things #160
1. A second cup of coffee to help me wake up!
2. Watching
The Sunday Morning Show
... I'm not often in the mood for news shows but when I am I enjoy the variety of stories in a program like this one!
3. Crockpot cooking on a hot day!
4. Big Joe Henry's oldies program on the weekends--he's a very funny and entertaining guy! I really enjoy the "Class of __" themed shows he does too.
5. I got another request for one of my books through
Paperback Swap.
It's a grace for me because I have
too many
books and these need to go! I can't in good conscience bring in any more books while these piles are lying around! Unfortunately ... the greatest piles are the ones I haven't read yet! ;0)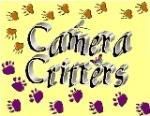 This is one of my favorite pictures taken of Mouse. He likes to peek out with half his face hidden and I've been lucky enough to catch shots of him. I was going to post a Mancat Monday picture of Mouse where I caught him peeking out from behind something else!
Sunday Seven
Name seven of the 50 "automotive eyesores" that you wouldn't be ashamed to have in your driveway.
1. Ford Taurus
2. Toyota van
3. Toyota RAV4
4. Toyota Prius
5. Volkswagen New Beetle
6. PT Cruiser
7. BMW 7 Series
I'm really surprised that some of these are considered "ugly" cars!
Straight Out of the Camera Sunday
I was looking at some pictures I'd taken a few years ago and came across this one of my daughter. I really like how it came out. We were at the original Imagination Kingdom with the kids and grandkids one evening in 2006.
My favorite time of the day
is morning. I'm most alert and creative during the morning. Let me amend that! I'm most alert and creative
after
I've had at least one cup of coffee! I do most of my blogging or writing in the morning. I like mornings, too, because it's cooler. The birds sing in the morning and I love to listen to them. I also enjoy watching the sun come up, especially if I'm near the ocean. I enjoy mornings because of the promise of a brand new day!