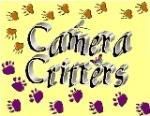 Before it got so hot we had to turn on the AC (this weather is definitely going through menopause or something), we had the windows open. The cats, of course, love it when the windows are open. Mouse and Kosmo spent a few minutes singing to the birds, trying to tempt them to come closer. As if!
Want more cat blogging? Be sure to check out
Blogging Cat Noos
for all the latest and a listing of this weekend's carnivals!