I am so thrilled! I feel like it's official because my weight has been below 200 for two weeks now. Wooohooo!
Dr. Greenbaum and weight loss surgery has really saved my life! When I went in for my duodenal switch last April, I was nearly 300 lbs. I had diabetes, high blood pressure, high cholesterol, a full collapsed arch in my left ankle and a partial one in my right, bulging disks in my spine, and was in a great deal of pain all the time. I had difficulty moving around and had pretty much become a hermit, too embarrassed to go out into public unless I had to.
I'm not at my goal weight yet but my diabetes is in remission! My blood pressure is much better--I don't need the meds now. My cholesterol is great--no meds needed for them either! Yes, I still have the same issues with my ankles but I'm looking into surgery that now won't be undone by my weight. I still have fibromyalgia and pain but it's not nearly as bad as it was. I can walk! I can move around much more easily and I'm not embarrassed to be seen out of the house now.
I asked TB to take a picture of me yesterday when I realized I'm official. Here is me now: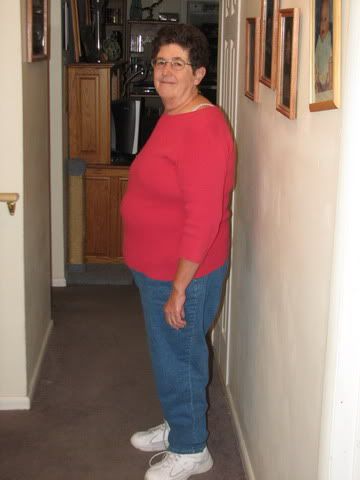 I was going to use this as my new avi on
Obesity Help
.
This is me from the end of March, about 3 weeks before my surgery:
I've come a long way and I'm loving my DS!
I'm still about 50 pounds from my "goal" goal but that's okay. I'll get there when I get there and if not, that's okay too.
Here is me, the last time I was at my goal weight, with my older daughter in 1993: