CATS ON TUESDAY is a group of cat lovers who share pictures and/or stories about their cats once a week, hosted by Gattina.

Munchkin, Mom-Bean & Dad-Bean want to thank everyone for their suggestions about
her pooping issue!
We're trying out all the suggestions. First thing we did was get an uncovered litterbox, showed her where it was ... and later that day, she pooped on the floor in our bathroom. Not sure if it's because someone else in the gang found it too or if it's because it's actually a territorial or smell issue. The box is still out and next time we'll try a different kind of litter.
It's been pretty cold here the last 10 days or so and the wind chill makes the temperatures feel colder. When the wind blows hard, it's
freezing
. We don't run the heat that high to save money and sometimes it feels cold in the house too. But there's ways to keep warm! We beans put on our sweaters and cover ourselves with extra blankets.
Here's some of the strategies the gang uses:
The cat tree is covered with a nice material that warms up nicely in the sun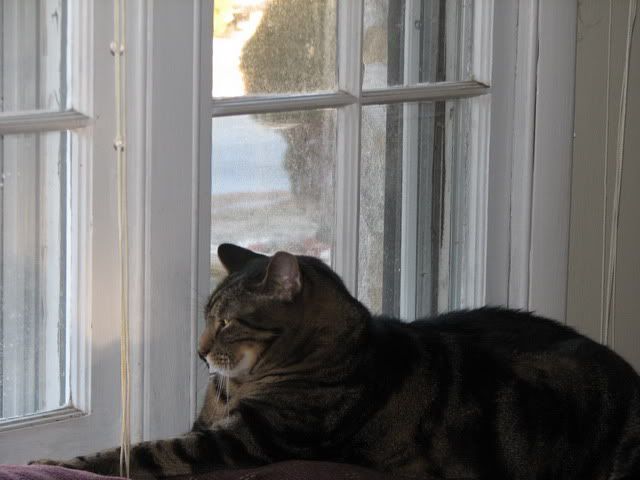 Kosmo likes his sunshine on the back of the sofa
So does Mouse, but then he also curls himself up into a ball for additional heat!
Want more cat blogging?
Be sure to check out
Gattina's blog
. Today is also
Tuxie Tuesday
and then there's
Blogging Cat Noos
for all the latest!